C-me Live makes it even easier for your teams to understand and explore behaviours, whilst continuously:
✔ Implementing effective communication
✔ Developing strong connections
✔ Driving business performance, together
Whether you use it to drill down into sections of your report or use it to lead and facilitate workshops, C-me Live will empower your people development strategy.
Watch our video to find out more.
Profiles You Can Interact With
C-me Live provides users the ability to interact with your personalised profile.
By breaking up your profile into bite-size chunks, we make the information easy to digest and understand.
When you drill down into different sections, you can engage with and personalise your profile. Highlight the statements that really resonate with you, or cross out the ones that don't.
Having an interactive platform stimulates self-awareness and self-understanding and supports delegates in understanding their preferences.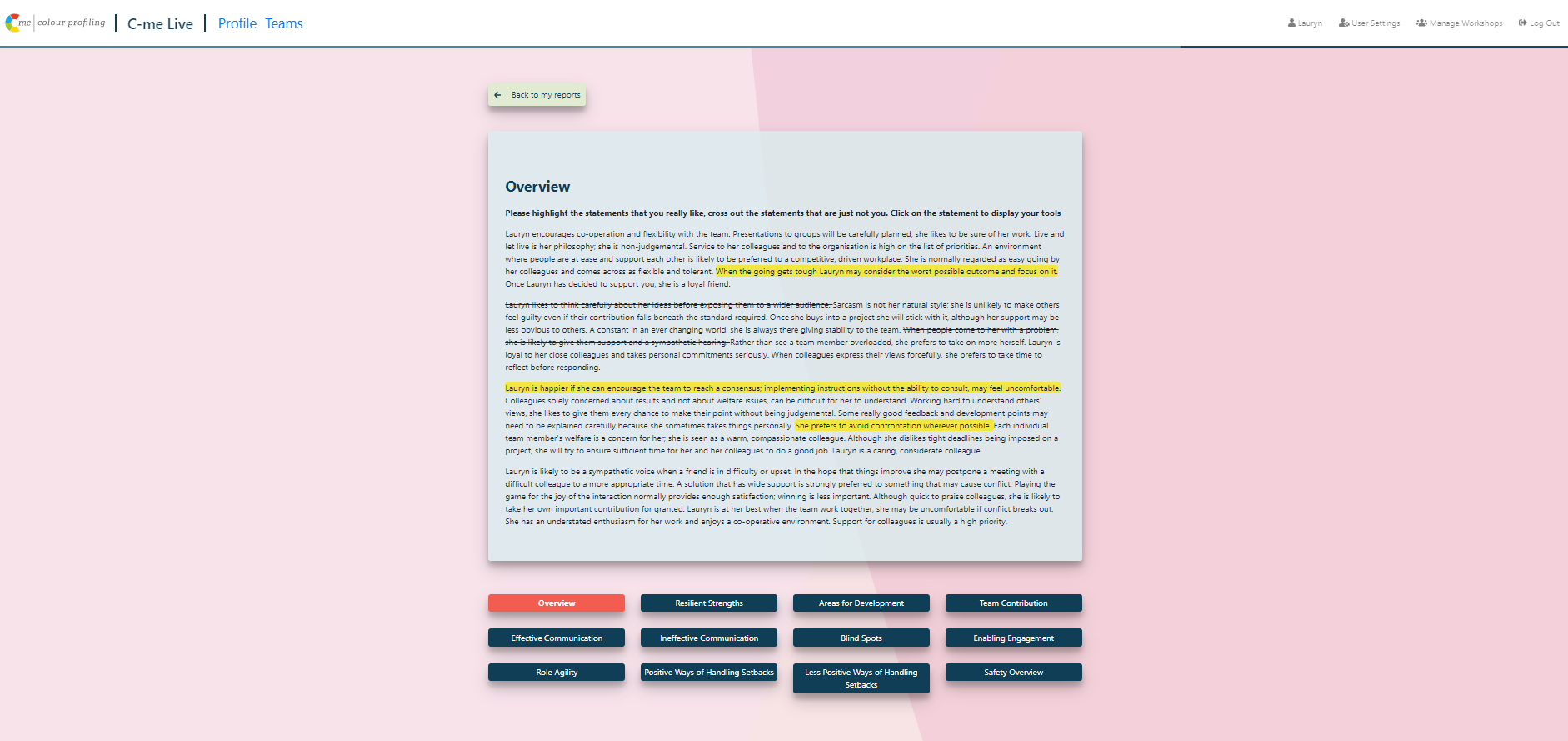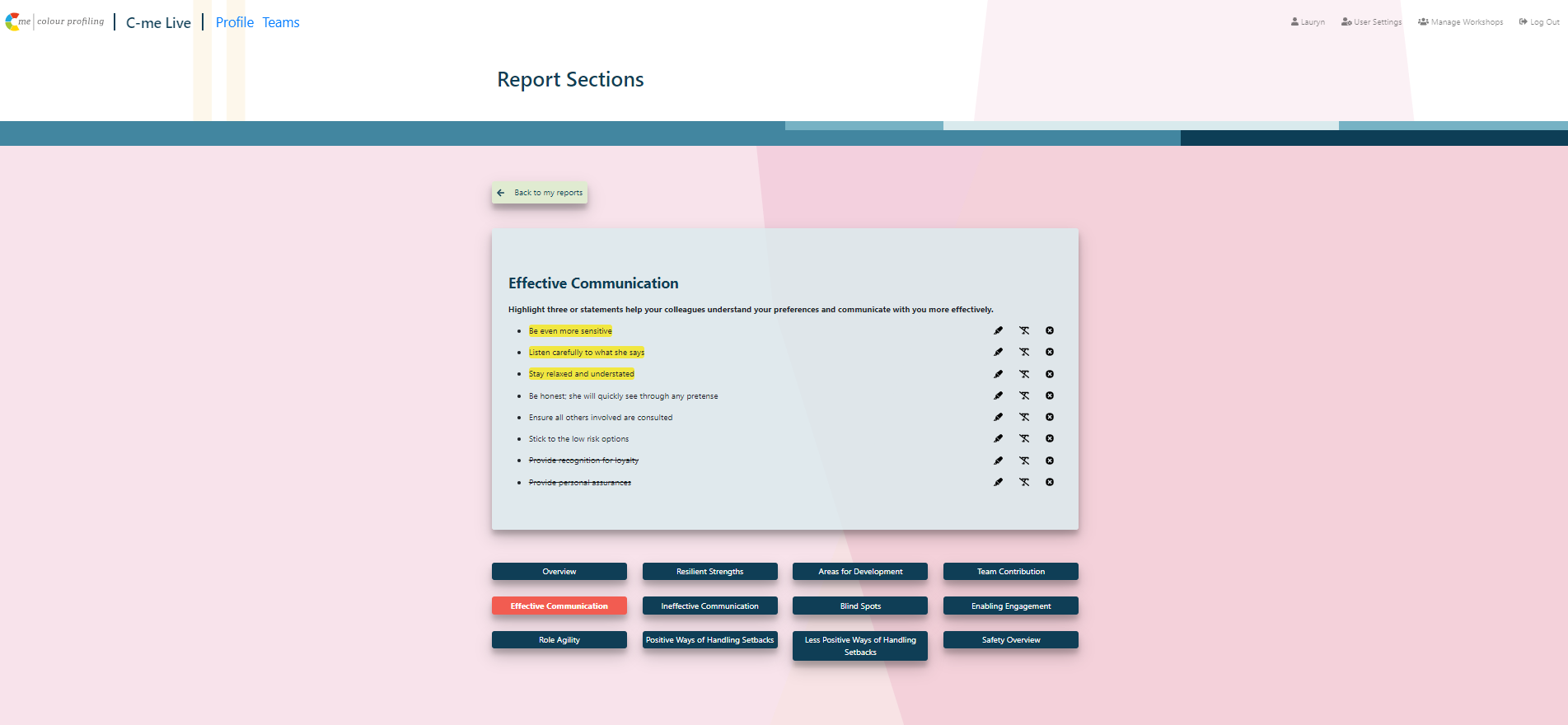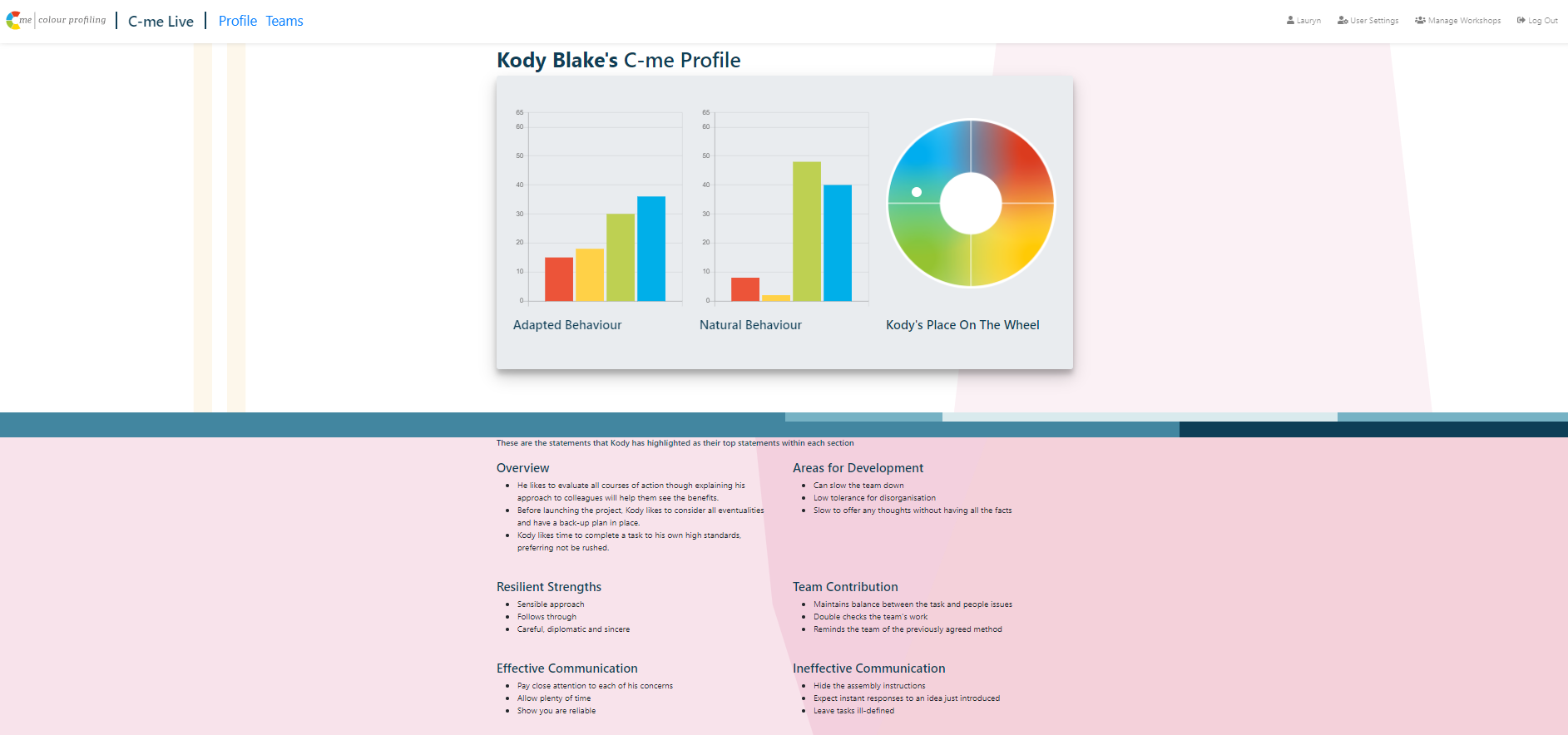 Share your Profile Summary
Highlighting statements across your profile will pull through into your personalised summary.
This acts as a one-stop-shop for your teams to visually view your colour preferences, position on the wheel and all those statements you've highlighted!
This will give your team a great overview of how you work and how best to collaborate.
It is a great way to establish effective work, trust and transparency between team members.
Get To Know Your Team
View any of the teams you are in, visually understanding the overall team wheel and your teammates colour position.
You can quickly see how a team works together, how they drive growth and how they handle setbacks.
You can also view your teammates' profile summaries from this page!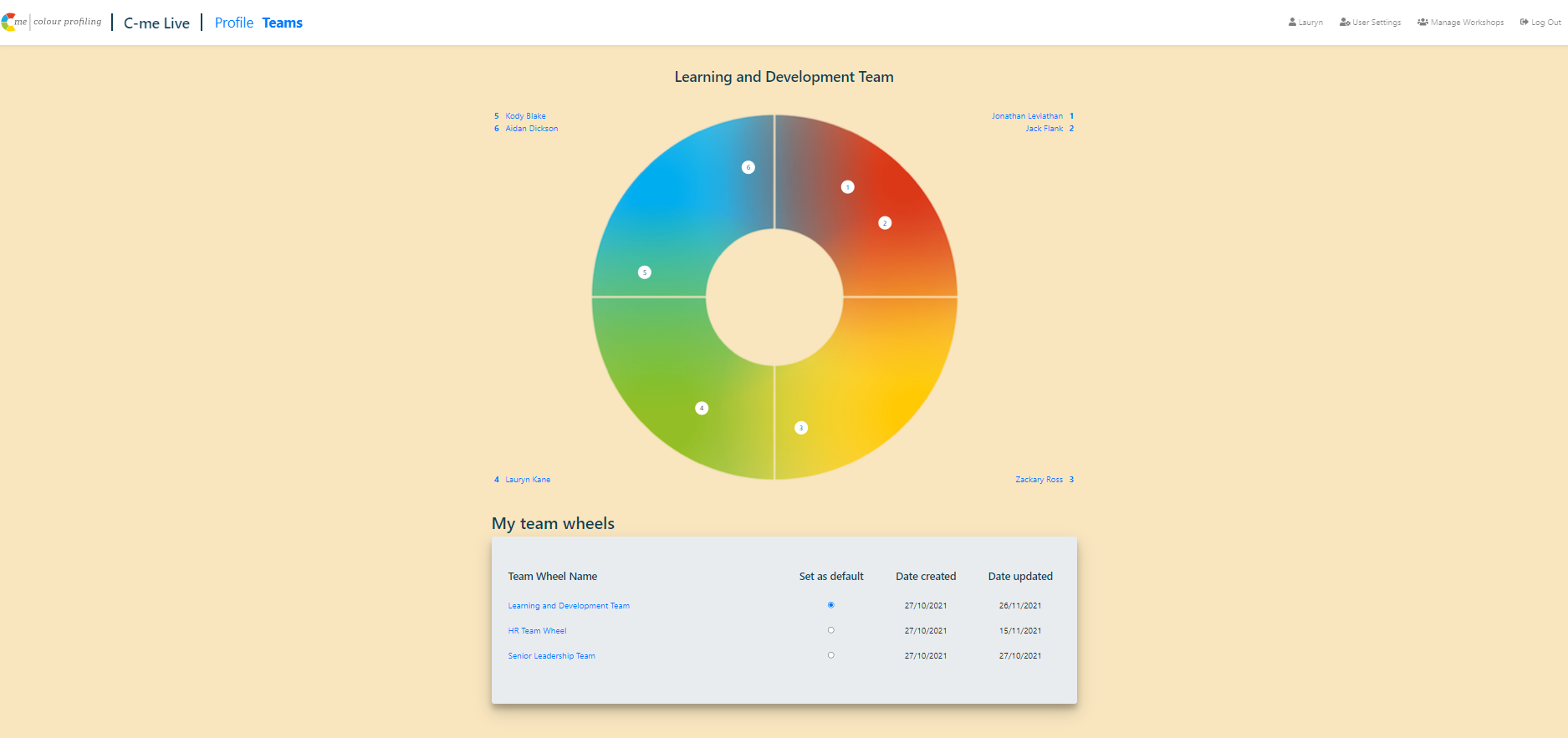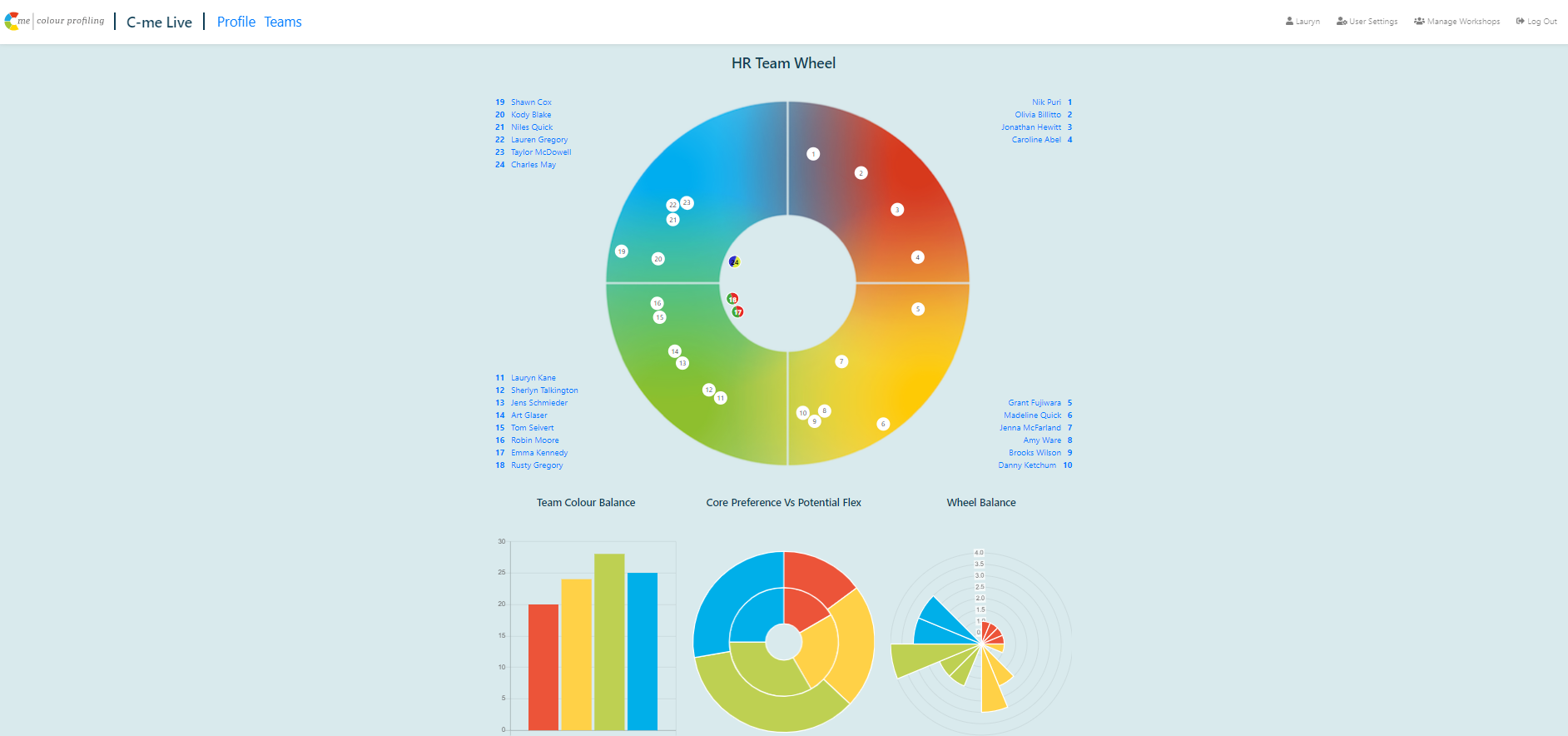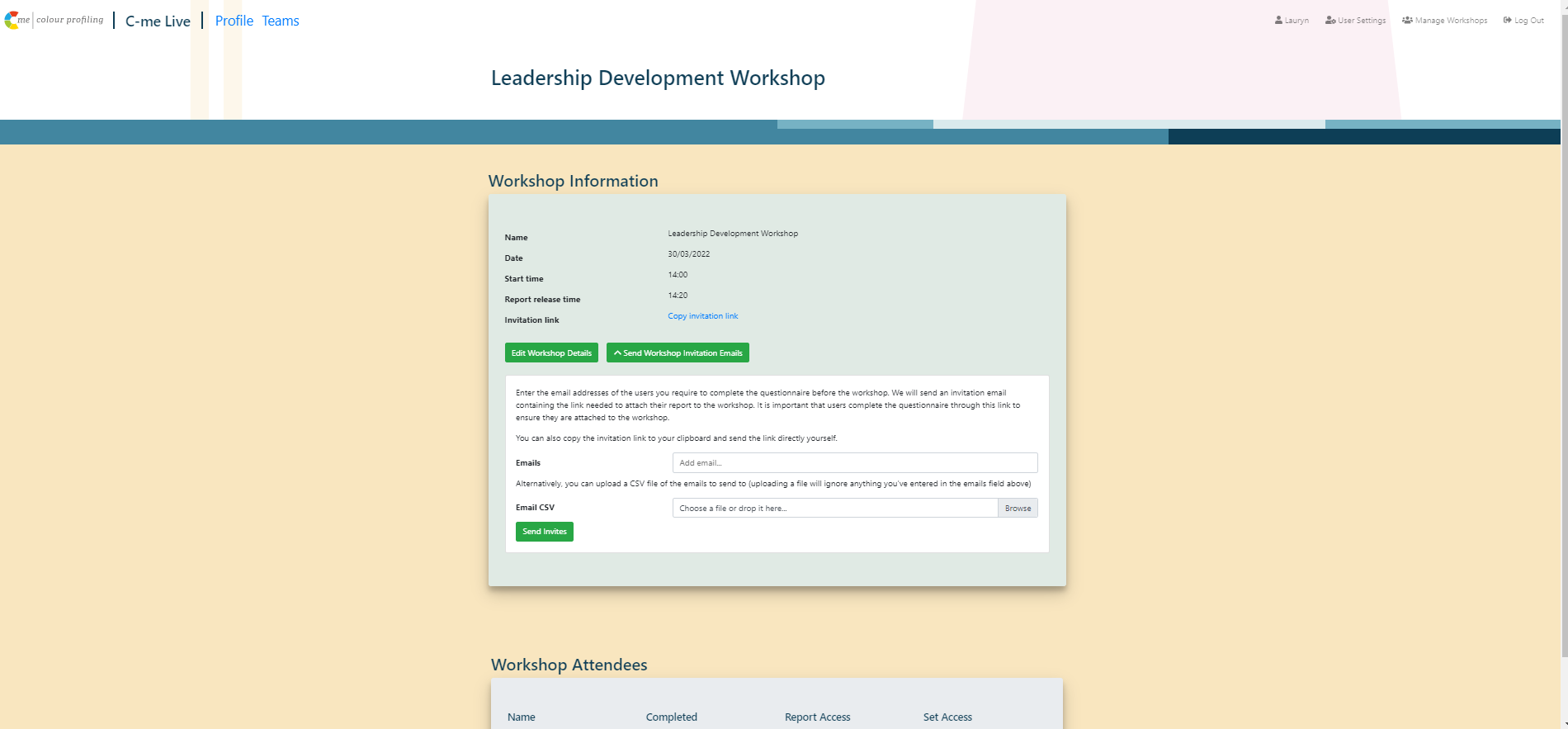 For Those Who Facilitate C-me, Set Up Workshops
The development of new workshop features will give you more autonomy and flexibility when scheduling and delivering workshops.
Invite individuals to complete their C-me questionnaire and attend workshops and decide when you want your attendees to have access to their C-me Live account.
Don't Just Take our Word For It
C-me has been a brilliant tool that has helped our teams effectively communicate. Using C-me's easy to understand language of colour, our global SLT, regional teams and future leaders are now more self-aware of their own behaviours. They can now navigate and understand how to flex their communication style to best suit their surroundings. We'd love to work towards a future whereby all our employees will have their very own colours profile!