Understand

your people
Build

great teams
Powered by

psychometrics
The #1 platform to supercharge your workforce's growth in self-awareness and teamwork through the power of psychometrics.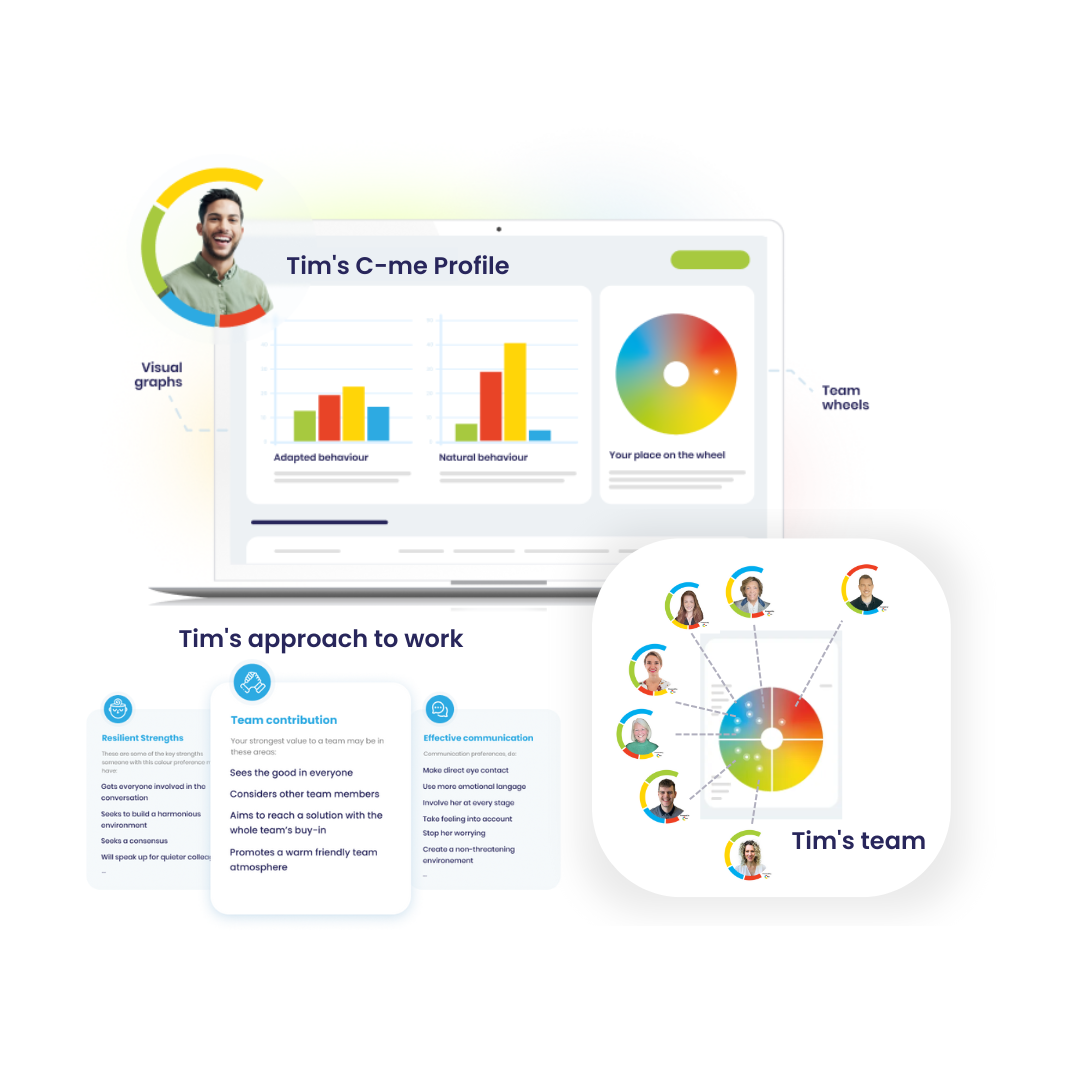 You're in great company
Our solution fits any size. We work with global brands, Fortune 500 organizations, not-for-profits, and start-ups.
0
%+
An extremely high reported average accuracy level of 85%+ for our profiles, as reported by users themselves. We then invite users to filter their reports to work on that last 15% and make it their own.
0
%+
The percentage increase in the effectiveness of all internal and external communication, reported in a client case study looking at C-me's effect upon 150 employees.
0
The number of languages that our questionnaire and reports can be delivered: English, Dutch, Spanish, Simplified Chinese, Russian, German, Japanese, Korean, French, Hindi, Vietnamese
Unlock the potential of your employees
Equip your employees to grow in self-awareness
With personalised profiles to help them understand how they are motivated and impact others.
Support your teams to work even better together
Give them insights to understand and appreciate their differences, resolve conflicts faster, and collaborate to achieve their goals.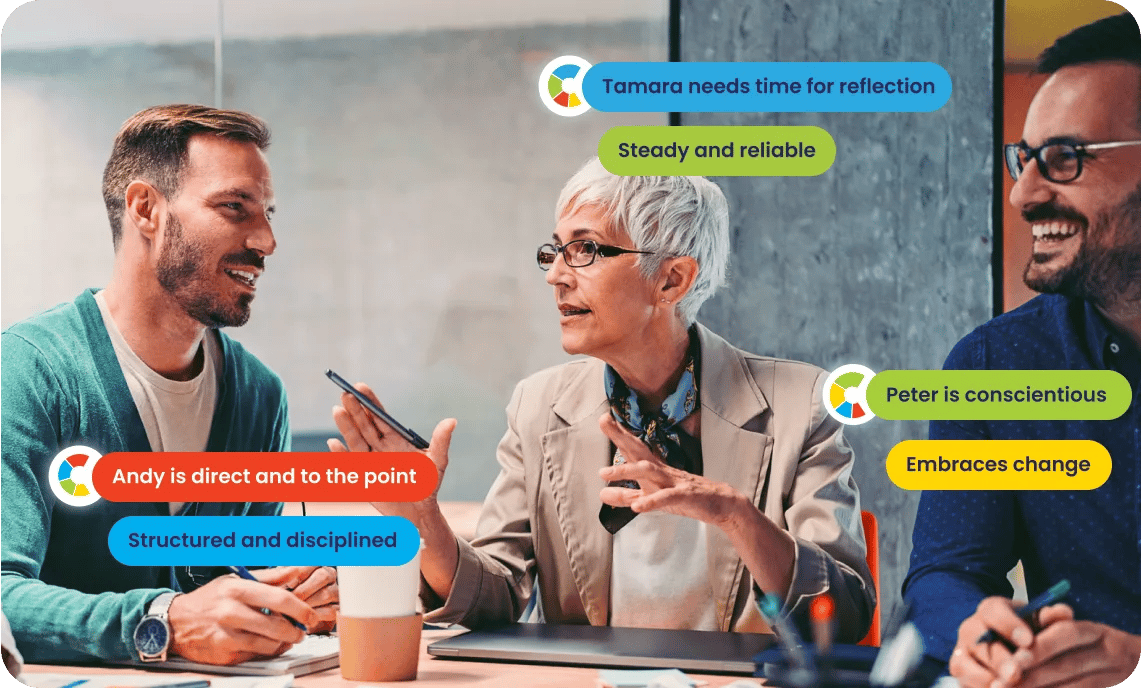 Improve communication skills
Train your employees in how to adapt their communication with colleagues, to achieve their targets and enjoy the process more!
Build more effective teams
Bring out the best in your team and achieve outstanding results by understanding how each team member works best.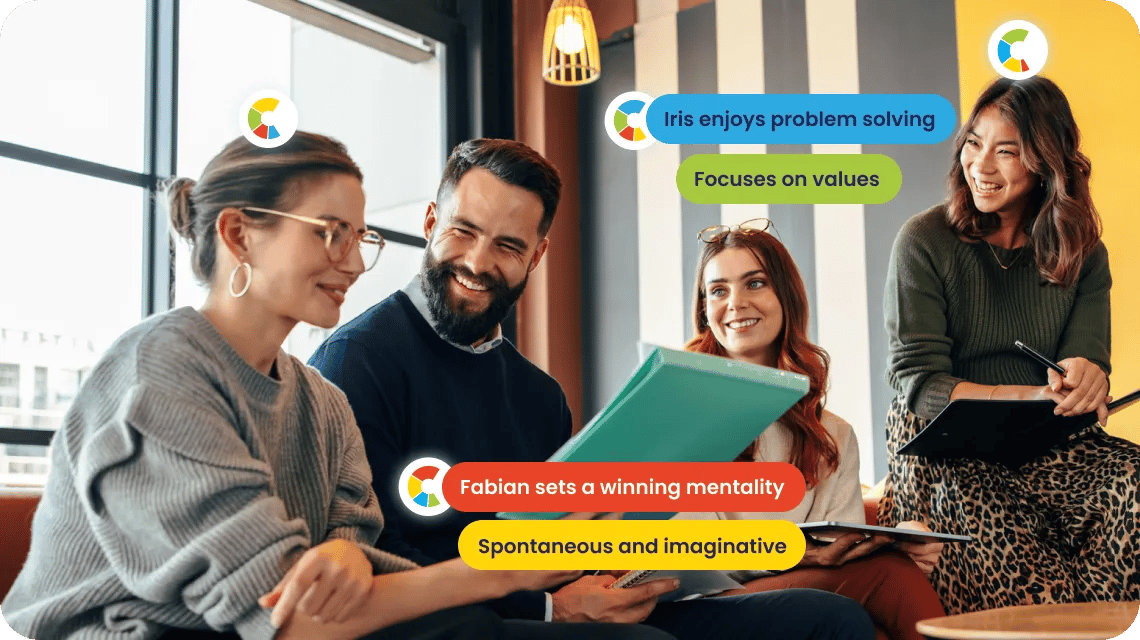 Tried and tested psychology
Let's be honest, human behaviours can be complicated. That's why we have simplified things by associating behaviours with colours.
Underpinned by decades of psychological studies and research, some smart algorithms and 45,000+ jargon-free statements, C-me provide powerful information for all of your people needs.
Logical and analytical
Focusses on the details
Enjoys problem solving
Needs time for reflection
Realistic
Structured and disciplined
Sticks to their principals
Bold and determined
Confident and optimistic
Task focussed
Enjoys stretching goals
Sets a winning mentality
Thinks big
Direct and to the point
Conscientious
Tactful and diplomatic
Kind and considerate
Tolerant and open-minded
Works for a democratic solution
Steady and reliable
Supportive and loyal
Energetic and enthusiastic
Friendly and optimistic
Inspirational and visionary
Not afraid to take risks
Spontaneous and imaginative
Embraces change
Enjoys networking opportunities
What our clients say about us
Teams came together in days rather than weeks and were able to deliver complex solutions against tight budgets and deadlines. C-me gave us increased clarity that led to high performing teams and increased employee engagement.

Hans van der Velde

-

Former CEO, Visa Europe

C-me has been a really useful tool; using them to not only develop our own self-awareness, but also learn how to communicate better as a team has been really invaluable.

Gill White

-

Service Manager, NHS Bristol

Invaluable insight into our team.

Kate Coughlan

-

Head of Planning, BBC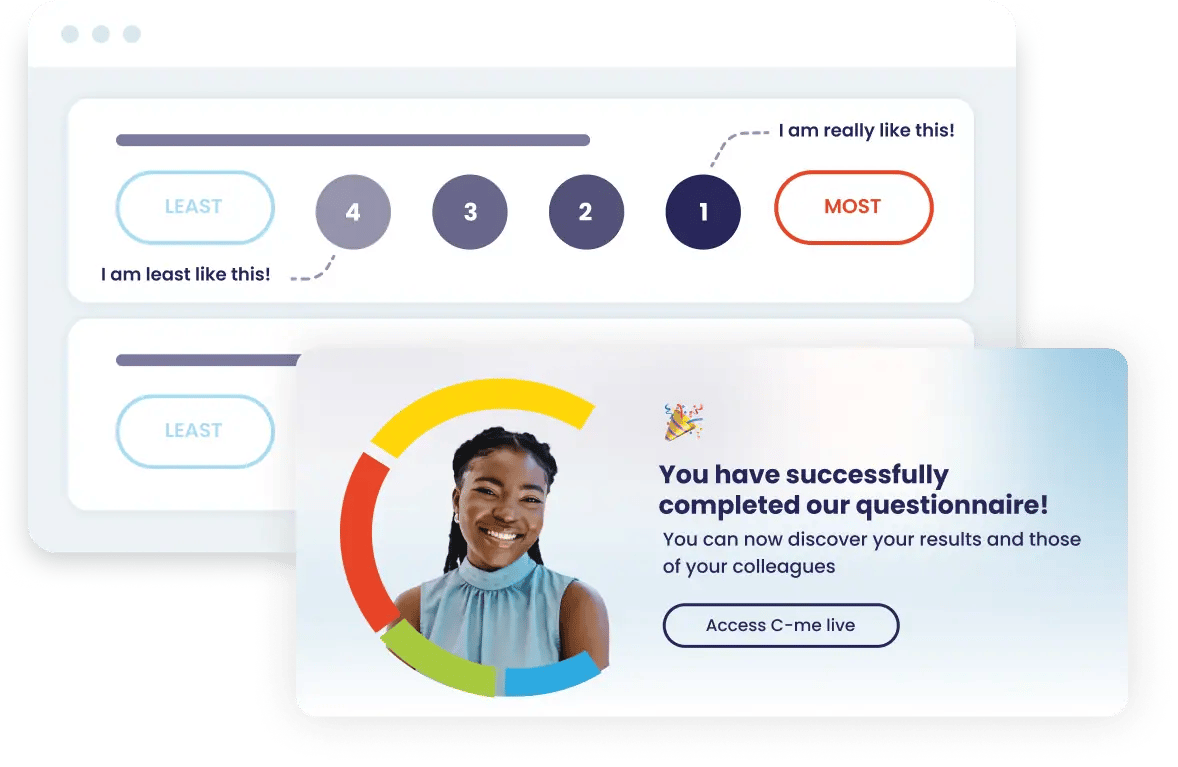 Step 1
Your employees complete our questionnaire, which takes less than 10 minutes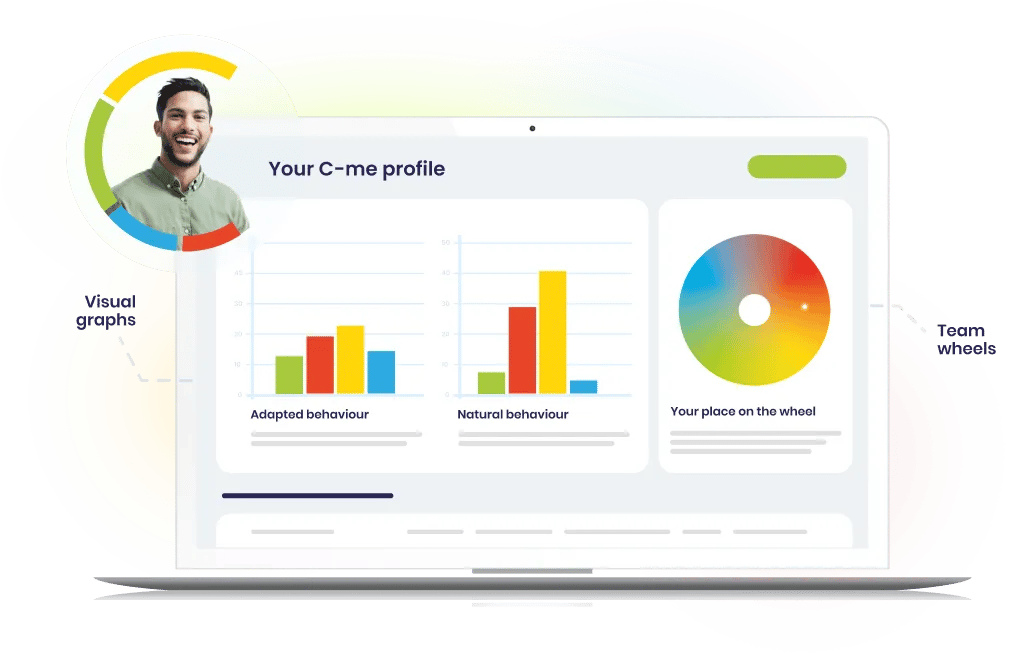 Step 02
Each staff member gains access to their account on the C-me platform
Step 3
Each person is invited to interact with their report, giving them a platform to reflect on self-development.
Step 4
Teams are invited to view their team wheels, share their report summaries, and reflect upon their team dynamics with their goals in mind.