Do you have a common language?
Colour is the language we use to describe the different behavioural preferences that make up our personal approach. This overview gives a flavour of the different approaches our colours represent. It also shows how they align to the core axes of extraversion/reflection and task/relational focus. One of the great things about colours is that they blend. We understand that we are all a unique blend of these approaches and that the axes they rest on are a sliding scale.
Each colour has different characteristics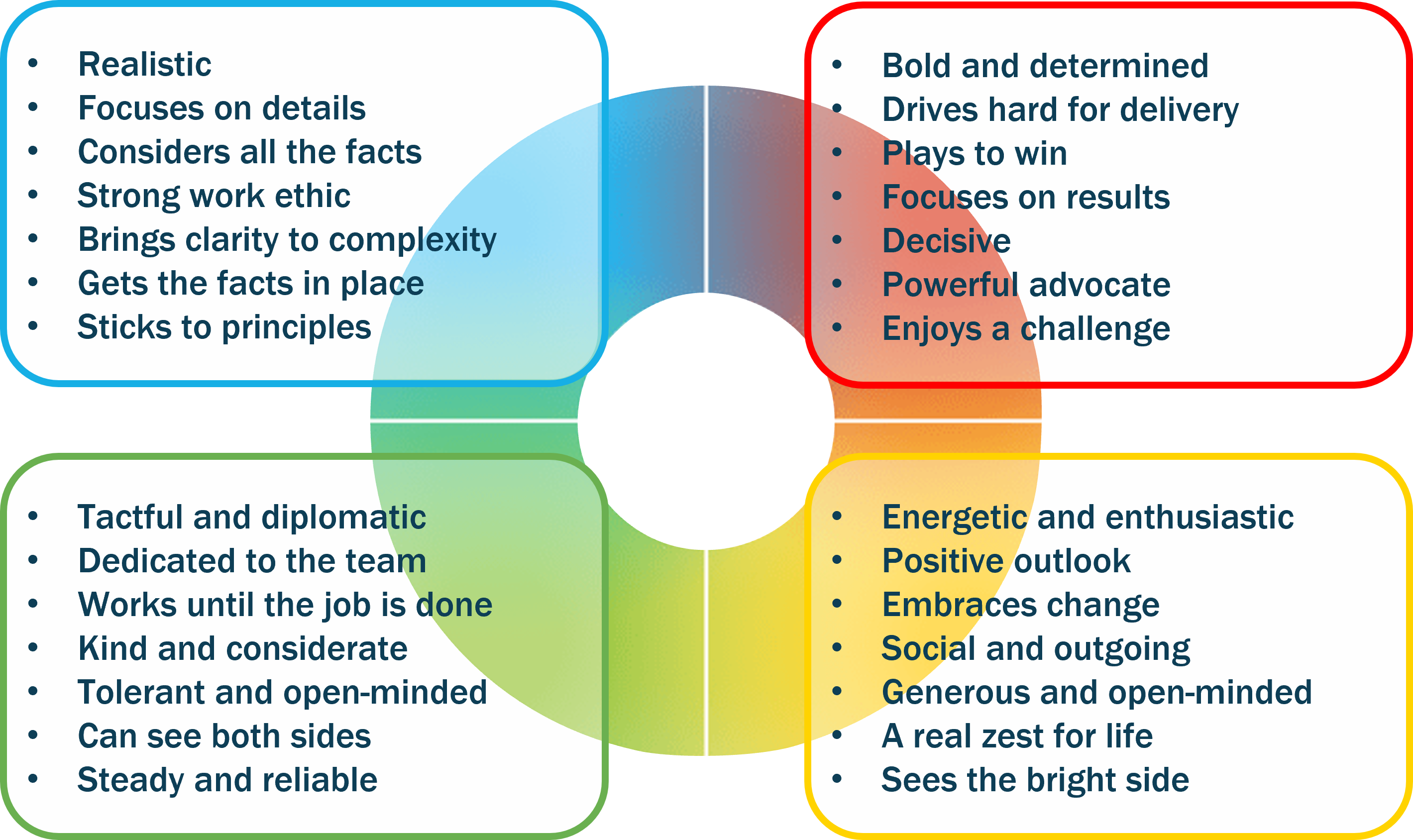 Which colour are you and your team?
We are all unique and have our preferred ways of doing things expressed in the language of different combinations of four colours. This combination gives each person their unique temperament. Which colour can you relate to the most from the image above?
Each colour preference has a preferred way to be communicated with. Here are some top tips to use to communicate effectively with other colour preferences.
Try these top tips with others...
Tips for communicating with those leading with a

Blue

preference
Give

facts, ideally in writing

Be

rational and practical

Ask

for their questions

Discuss

the principles

Be

logical and thorough

Listen

carefully to questions

Allow

time to prepare




Tips for communicating with those leading with a

Red

preference
Demonstrate

conviction

Identify

their role quickly

Be

direct and action-focused

Present

options

Focus

on success

Be

clear and brief

Refer

early to the objective




Tips for communicating with those leading with a

Green

preference
Allow

time for discussion

Listen

carefully

Show

sincere interest

Be

polite and courteous

Consider

their opinions

Be

sensitive; feelings matter

Progress

at their relaxed pace
Tips for communicating with those leading with a Yellow

preference
Be

interactive and friendly

Use

visuals

Allow

free flow

Be

light and fast-paced

Make

direct eye contact

Seek

their views and ideas

Allow

for an open discussion
We all have a unique blend of the four colours. Try putting these tips into practice with those you work with and see what impact it has.
Here is a glimpse of a C-me report
C-me can provide a range of different reports. They have all been designed to ensure that they are easy to understand with clear suggested actions which can add value immediately. Also, what is great is that you don't need to have a degree in psychology to interpret them!
The personalised statements for each section of the report are gathered from our database of 35,000+ statements.
Some of the report chapters include:
Your Graphs and Colour position

Personalised overview

Resilient Strengths & Team Contribution

Areas for Development and Blind Spots

Effective and Ineffective Communication

Remote working preferences

Enabling Engagement and Role Agility

Handling Setbacks & Managing Stress

Action Learning